Is Progress an illusion?
Are catastrophic changes inevitable?
Is Technology the problem or the solution?
What are the practical alternatives?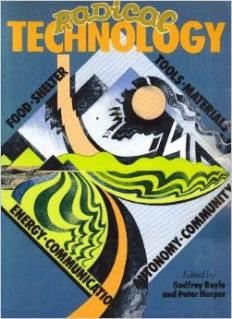 In 1976 Peter Harper, Godfrey Boyle and the Editors of the magazine Undercurrents published a ground-breaking book — Radical Technology (Wildwood House UK & Pantheon Books USA, 1976). It was very well received by readers and reviewers in the UK, USA and world-wide, and was translated into German and Japanese. You can find more information in Quick History.
Some years ago, Peter, Godfrey and colleagues decided to convene a conference in 2016 to celebrate the fortieth anniversary of the book's publication. The idea was to review the many changes in ideas about and attitudes to technology over the past four decades and highlight any lessons that might be drawn for today and coming decades.
And we did it. The conference was held at Bristol University on September 2-4 and was very successful, attended by some 150 delegates and speakers, many of them veterans of the early days. Some presentations were recorded and have been uploaded to this web site. Go to Conference Films and Resources for suitably classified access.
The book's most famous and iconic image was the 'Autonomous Terrace' drawn by Cliff Harper and reproduced below. It sums up much of the spirit of the original document and illustrates many of the technologies advocated in the book — often subject to continuing arguments over the years. Many other such images by Cliff can be found in the Exhibition section.