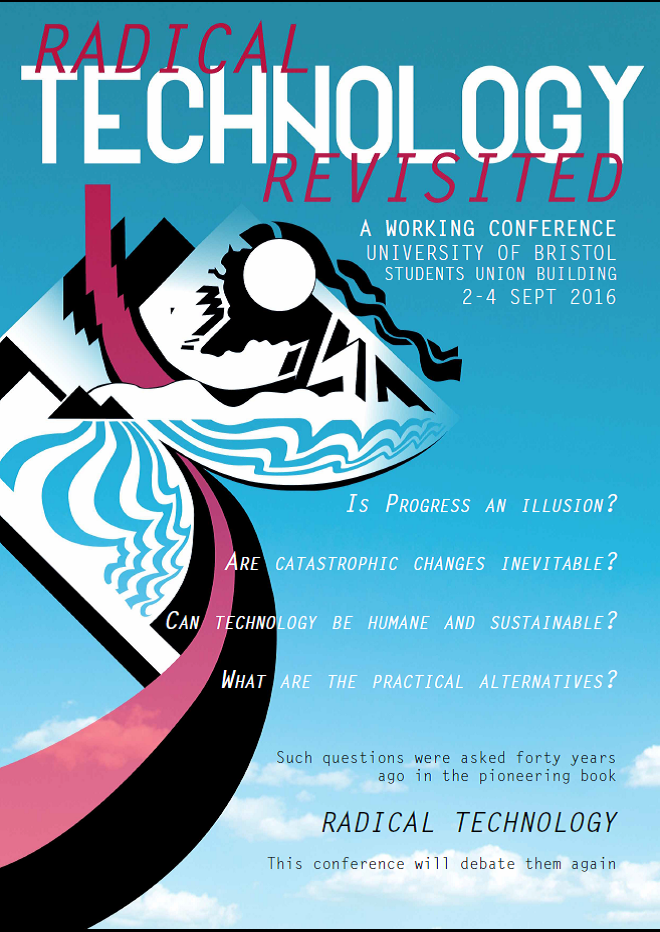 The conference consists of four distinct events, and you can pick any or all.
Although most sessions are catalysed by invited speakers, it is expected that everybody will participate. There are no foregone conclusions. If you want to make a specific contribution, please get in touch either with Peter Harper peter@peterharper.org or with Godfrey Boyle, godfrey.boyle@open.ac.uk.
The main event is on Saturday 3rd September; events during the days of Friday and Sunday are smaller and more specialised, more for enthusiasts although of course everybody is welcome. Event 2 on Friday evening is open to the general public.
The four events are
Event 1:   Friday 2nd 0930-1800: RADICAL TECHNOLOGY 1.0 REVISITED: Forty Years of Time Travel
Event 2:   Friday 2nd 1930-2130: COMMUNITY ENERGY TO THE RESCUE? : Local Choices, Global Effects
Event 3: Saturday 3rd 0930-1800:  IS SMALL STILL BEAUTIFUL? Can it keep us within the Planetary Boundaries?
Morning sessions:
SCHUMACHER'S VISION
SHELTERING THE TEN BILLION
GREEN GROWTH: CONTRADICTION OR NECESSITY?
Afternoon sessions:
FEEDING PEOPLE IS EASY – OR IS IT?
LIVING MORE, MOVING LESS
THE POWER TO CHANGE
Event 4: Sunday 4th 0930-1700: VISIONS AND REVISIONS: Contrasting scenarios of the next forty years
There will be other events during the conference:
Art exhibition of classic images of the genre, featuring covers of Undercurrents and the work of Cliff Harper including the Visions from RT 1.0, an arcadian comic-strip novel, and other graphics
Demonstrations of hardware and systems, e.g. a lightweight hydrogen car, electric-assist bicycles, negative-carbon composite materials, super-insulation systems
An archive library of classic texts including a complete set of Undercurrents, other journals such as Street Farmand In the Making; first editions of RT 1.0, early publications of the Centre for Alternative Technology etc.
On the evening of Saturday 3rd, there will be a Birthday Party, with live bands, performances etc. The bar will be open of course.