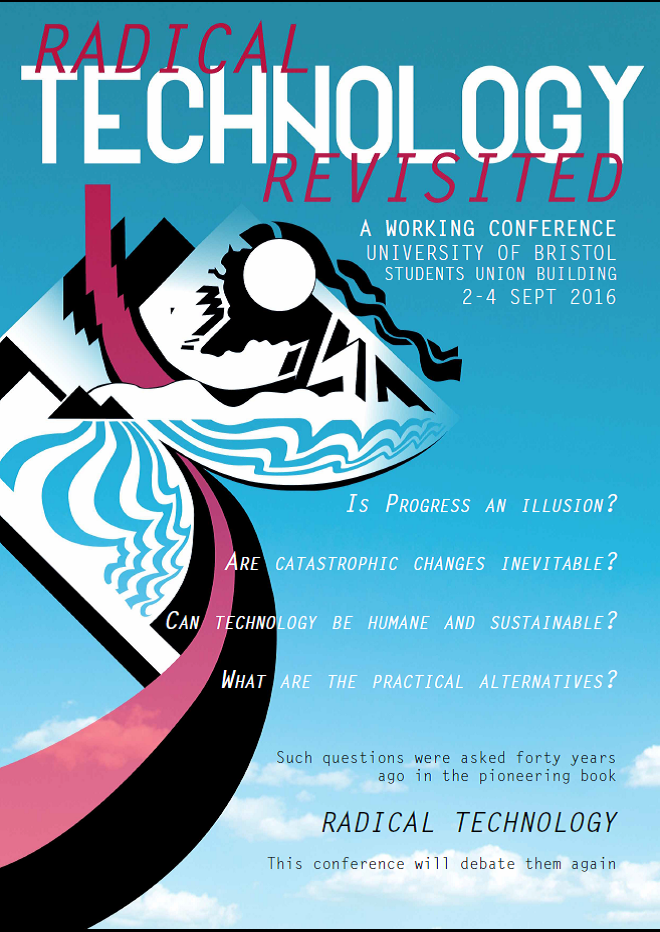 The conference consisted of four distinct events. Here we simply present the programme as laid out. Most of it actually happened.
The four events were
Event 1:   Friday 2nd 0930-1800: RADICAL TECHNOLOGY 1.0 REVISITED: Forty Years of Time Travel
Event 2:   Friday 2nd 1930-2130: COMMUNITY ENERGY TO THE RESCUE? : Local Choices, Global Effects
Event 3: Saturday 3rd 0930-1800:  IS SMALL STILL BEAUTIFUL? Can it keep us within the Planetary Boundaries?
Morning sessions:
SCHUMACHER'S VISION
SHELTERING THE TEN BILLION
GREEN GROWTH: CONTRADICTION OR NECESSITY?
Afternoon sessions:
FEEDING PEOPLE IS EASY – OR IS IT?
LIVING MORE, MOVING LESS
THE POWER TO CHANGE
Event 4: Sunday 4th 0930-1700: VISIONS AND REVISIONS: Contrasting scenarios of the next forty years
There were other events during the conference:
Art exhibition of classic images of the genre, featuring covers of Undercurrents and the work of Cliff Harper including the Visions from RT 1.0, an arcadian comic-strip novel, and other graphics
Demonstrations of hardware and systems, e.g. a lightweight hydrogen car, electric-assist bicycles, negative-carbon composite materials, super-insulation systems
An archive library of classic texts including a complete set of Undercurrents, other journals such as Street Farmand In the Making; first editions of RT 1.0, early publications of the Centre for Alternative Technology etc.
On the evening of Saturday 3rd, there was a Birthday Party, with live bands, performances etc. It was a memorable event.